Careers
Messages from Employees
When I was a student, I participated in a Kitashiba factory tour. It was so amazing to see large machines such as transformers and rotary induction furnaces. That is why I wanted to join Kitashiba. After I joined Kitashiba, I was first assigned to Design. I designed a motor to be manufactured at the factory in China. Since its drawings were the first to bear my name, I was touched when I heard that my design had finally taken shape.
Last year, I was transferred to the Sales Group of the Motor Systems Division. At present, I make in-house arrangements for orders received and see to it that they are properly shipped to customers on time. At first, I thought, "I'll just do it!" I have learned my job step by step from my colleagues. This is my second year in the Sales Group. My current challenge is English proficiency. Since I receive orders from all over the world, including Europe, the United Kingdom, India, the United States, and Australia, I need to brush up my English so that I can respond faster.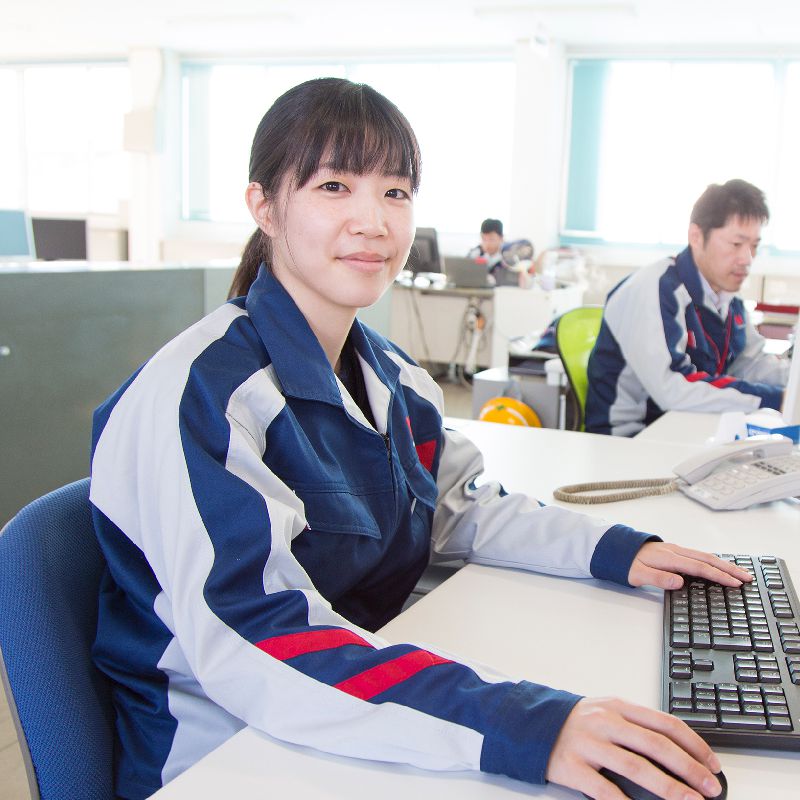 I went to technical high school and university, which were dominated by men. So, I do not care at all about the male-to-female ratio in the office. Kitashiba's working environment, which emphasizes a work-life balance, is more appealing to me because I want to continue working until retirement as my way of life. At Kitashiba, I can work at my own pace. I start and leave work on time and feel free to take paid holidays. I have also taken maternity and child care leaves before. Kitashiba has a reduced working hour system, which allows its employees to reduce their working hours by up to two hours until the end of March of the year in which their children finish the sixth grade at primary school.
There is a friendly atmosphere in the office. And, Kitashiba's employees have close ties. When I joined Kitashiba, I attended the one-month onboarding program with other newcomers to the Toshiba Group, and ten of us are still close and sometimes go out for drinks together. Once in a while, I feel re-energized when I hear about my peers working hard in their respective departments. My husband and I met at Kitashiba and got married in 2017. People who joined Kitashiba with me in the same year held a celebration party for me. I felt happy from the bottom of my heart to have peers with whom I can share both joys and sorrows. It is also great to see the president listen to young people whenever he has opportunities. I look forward to working with you.