Customer Testimonials
Customer Testimonials

Industrial Systems
Industrial systems
Kitashiba delivers melting equipment in Japan and abroad. Following the construction of an automotive parts plant in Kitagawa Mexico, S.A.DE C.V (KMEX), Kitashiba delivered the Elesave series of high-efficiency induction furnaces with low energy consumption and minimal environmental impact in 2013 and 2017. Kitashiba's products and after-delivery services are well received by KMEX as they help KMEX focus on its business operations.

Customer's Report
Decisive factors: Kitashiba's proven track record for plants in Japan and overseas support services
A product-friendly and human-friendly plant constructed in 2012
Kitagawa Mexico, S.A.DE C.V. (KMEX) is a Mexico-based Japanese automotive parts manufacturer founded in 2012 to meet the increasing market demand in North, Central, and South America. KMEX is based in the state of Aguascalientes in the central region of Mexico. KMEX began production in 2014, performing integrated production spanning from material production to machining.
Mexico was not included in the original offshore production plan. At first, Kitagawa was considering opening a plant in Thailand so as to adapt to the low-cost demand. However, in the face of the yen's sharp appreciation in the 1980s, Kitagawa's stance shifted toward local production for local sales in U.S. dollars.According to President Norihito Matsuba of KMEX, "Mexico had advantages because of zero-tariff export under the North American Free Trade Agreement (NAFTA) among the United States, Canada, and Mexico, as well as low labor costs. At present, with the motto of "A Product-Friendly and Human-Friendly Plant," KMEX specializes in the production of automotive transmission, engine, and brake components.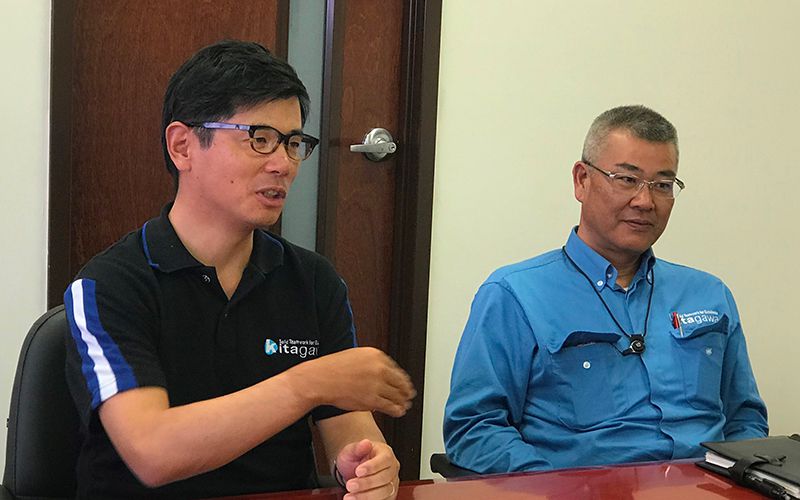 Norihito Matsuba, President of Kitagawa Mexico, S.A.DE C.V (left)
Isamu, Hiramae, Plant Director (right)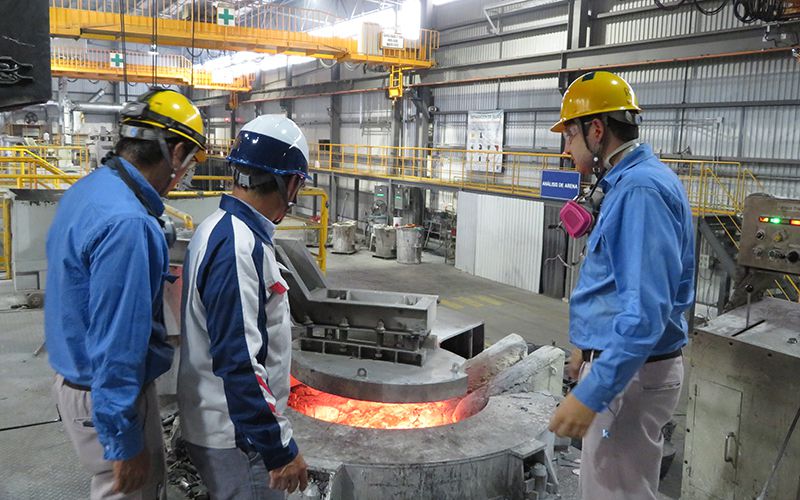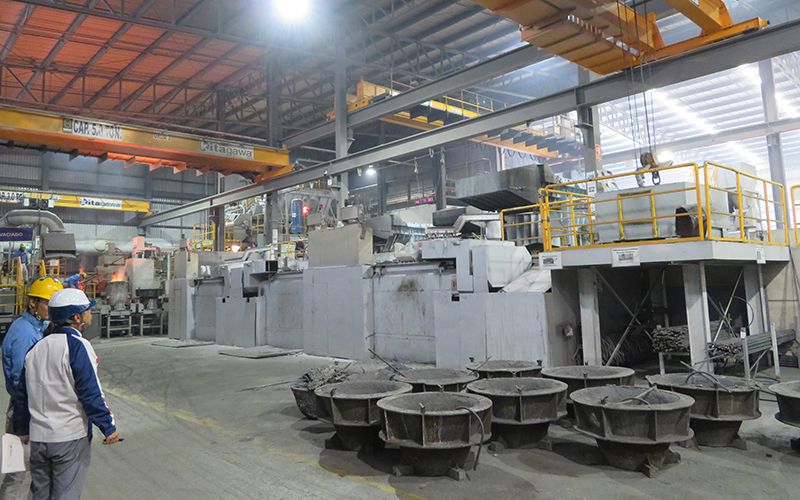 High-quality, energy-efficient electric furnaces capable of melting iron at high speed
In 2013, KMEX introduced Kitashiba's 3×3000kW-300Hz-3×5ton Elesave furnace to its Phase-1 plant. Then, in 2017, KMEX adopted the same furnace when it constructed an additional production line to increase its capacity. When asked why it was selected, President Matsuba said, "The decisive factors were Kitashiba's proven track record for plants in Japan and that it had local support services available overseas."
President Matsuba valued his experience with our high-frequency induction furnaces used at Kitagawa's plant in Japan. "When we discussed which make of induction furnace we should use in Mexico, our top priority was energy efficiency. Automated power control was also a deciding factor. When we introduced Kitashiba's induction furnace at our domestic plant, everything went smoothly. That is why we chose its furnace for our plant in Mexico. And, another reason is Kitashiba's support services. The availability of maintenance schemes in Mexico was also a point in Kitashiba's favor."
As a matter of fact, when we first installed the induction furnace at the Mexican plant, we had a lot of hiccups. But Kitashiba successfully overcame these difficulties without interrupting production, thanks to our superb troubleshooting skills. President Matsuba acknowledges that his trust in Kitashiba is now even deeper. "Kitashiba's induction furnace prevents excessive use of electricity through automated control, and it melts iron fast. It is an electric furnace with high stirring power and high potential capabilities," President Matsuba said. Looking back from the founding of KMEX to today, the market situation has been affected by unexpected changes in the U.S. policy. President Matsuba said, "Our production output has been growing steadily according to plan, without being affected by the zero-tariff restrictions of NAFTA. The future of the revised trade agreement is still unclear." We too have been reminded how reassuring it is that after-delivery and maintenance services are available locally.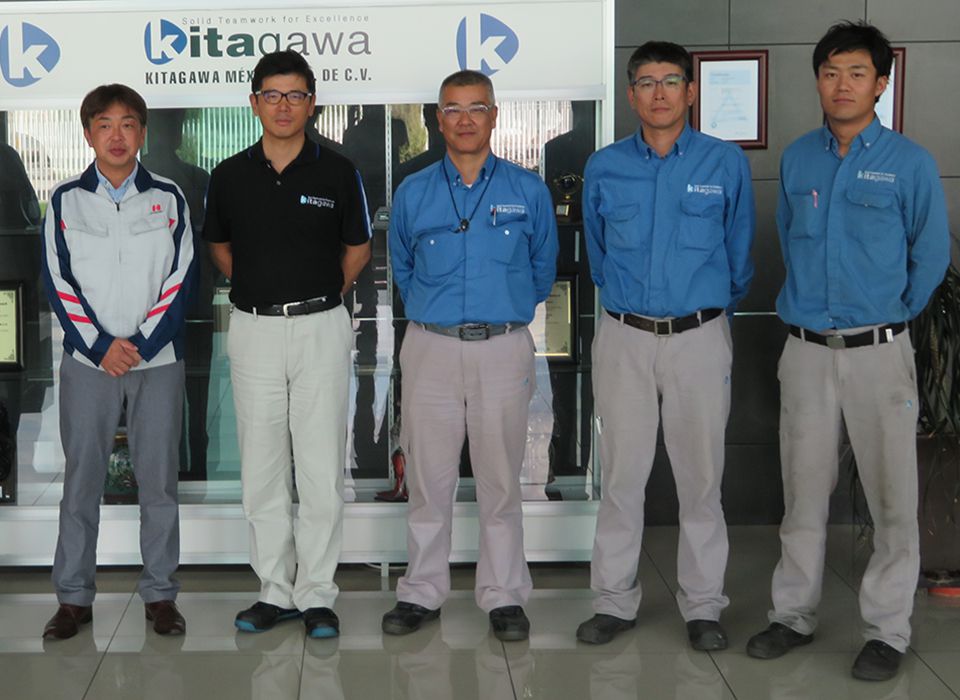 Induction furnaces with a quick-change crucible, simplifying coil replacement
President Matsuba said that he would like our next step to be noise prevention. "For Japan, 85 decibels, and for Mexico, 90 decibels. These are the guidelines we would like to meet. And, in terms of support services, it would be helpful if there could be seminars for Mexican operators on the maintenance and lining of furnaces," said President Matsuba.
President Matsuba is also interested in Kitashiba's Quick-Change Furnace (listed on our Japanese website) that simplifies coil replacement. He says, "Induction furnaces require coil replacement every five years, and this takes seven days to complete. If the replacement period can be reduced to three days, we would want to introduce the Quick-Change Furnace." At present, the Quick-Change Furnace is available only in Japan, but Kitashiba is currently preparing to make it available overseas as well. We hope to offer a proposal once we become ready.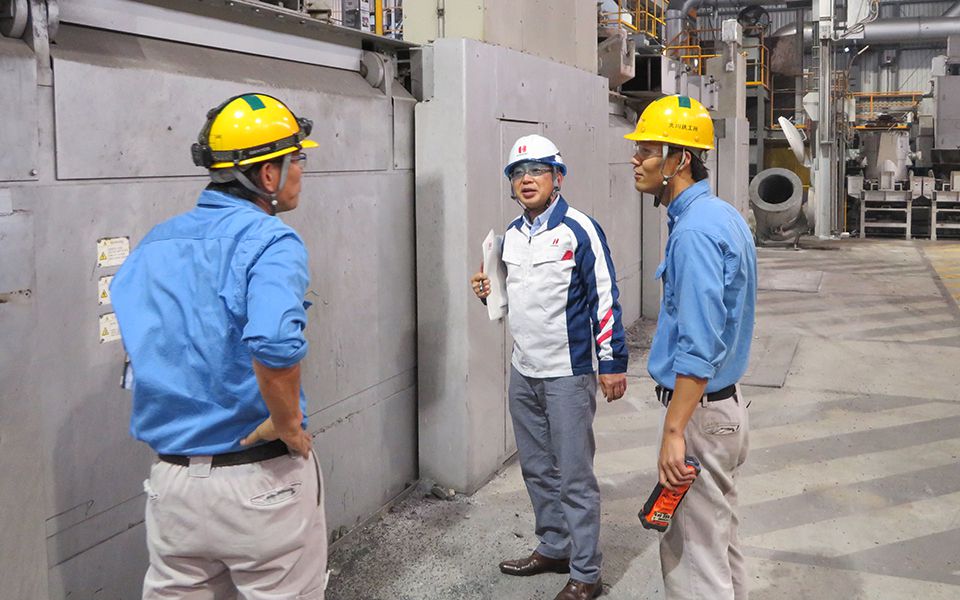 Industrial Systems Sales Group
Toshimitsu Kouno, Chief Specialist (middle), with local operators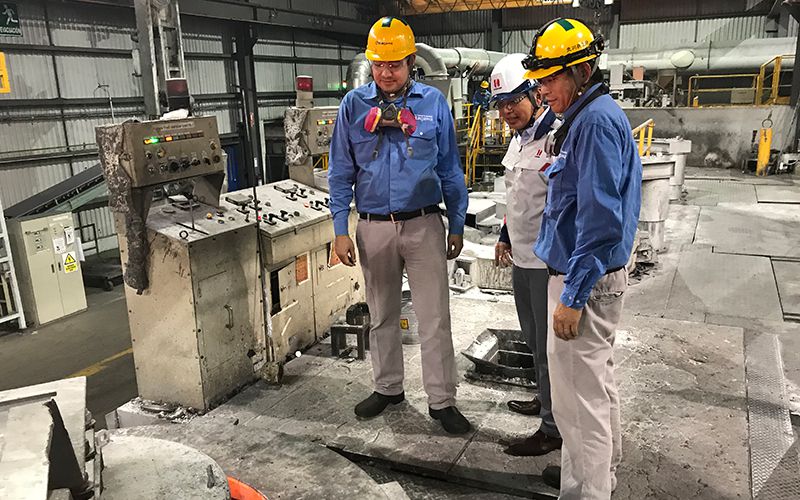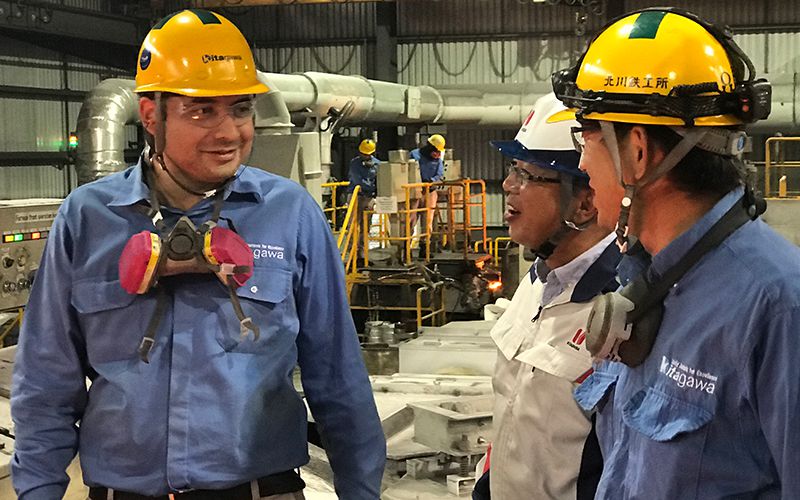 Leveraging high-quality integrated production spanning from casting to machining
It has been six years since the new plant was constructed in Mexico. The appeal of KMEX is Japanese perfectionism in monozukuri—the art, science, and craft of making things—as well as integrated production spanning from casting to machining. "Integrated production is rare in Mexico. We would like to play it up as our strength," said President Matsuba. At a negotiation for a new project for 2019, President Matsuba emphasized that KMEX is engaged in all processes ranging from material production to casting and machining. In addition, everyone in the plant's casting and machining sections participates in brainstorming sessions to create high-quality products and learn from one another. "I go to exhibitions held in Detroit with the aim of attracting American automakers, focusing on some of our product lines. We are considering differentials as a realistic form of prior investment. We are going to leverage differentials as an additional strength as we push forward." Kitashiba's high-frequency induction furnaces play a role in realizing KMEX's aspirations. We will continue to provide full support for KMEX. We look forward to continuing to work with KMEX.