Careers
Messages from Employees
A severe earthquake occurred in March 2011 just before I joined a university in the Tokyo metropolitan area. At that time, I wanted to come back to Fukushima after graduation to do my part to help revitalize Fukushima. I joined Kitashiba also because I was looking for a renewable energy job.
After I joined Kitashiba, I was assigned to the Transformer Systems Quality Assurance Group. My group consists of test and inspection groups. Our job is to check the quality of transformers. I am a member of the inspection team. I check the paint conditions and structures of transformers against their drawings.
Transformers vary in size from small to large. Large transformers are three to four meters high. Because inspection is the final process before transformers are shipped to customers, I always do my job sincerely, staying alert. Inspections are performed in the factory most of the time, but I sometimes go out in the field to do on-site inspections. Although I have not worked abroad, I have been as far north as Hokkaido and as far south as Kyushu.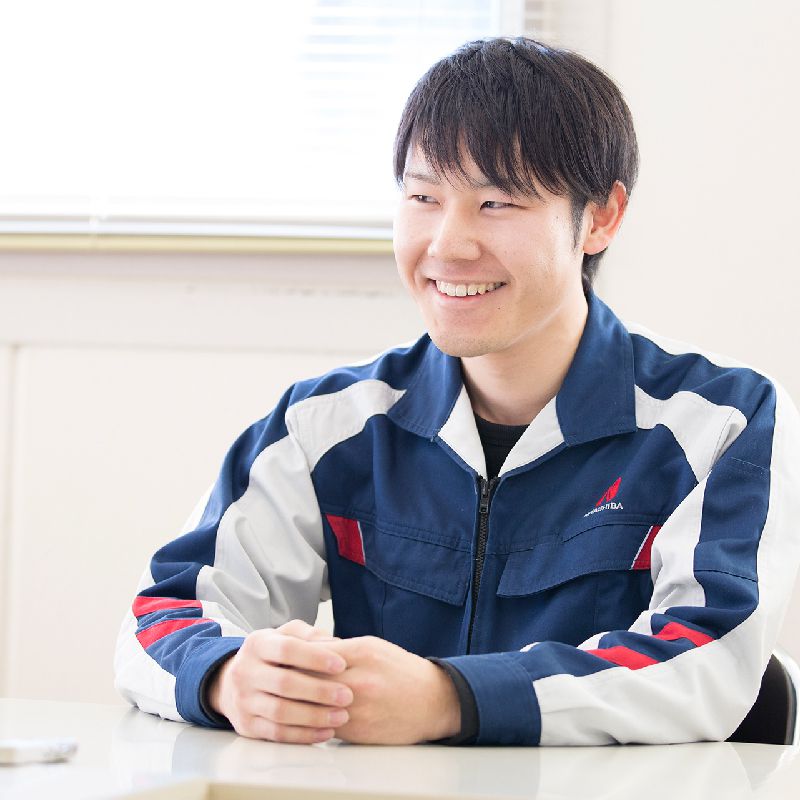 My group is dominated by men. Everyone is very caring and they are happy to take time to teach me new things if I ask. In addition, Kitashiba supports its employees in obtaining qualifications. When I took a Hazardous Materials Engineer test, the company paid for the seminar and examination fees.
For me, Kitashiba's appeal is its scale. Since Kitashiba's business area is social infrastructure that supports daily life, I feel that my job is worth doing and gives me opportunities to make a significant contribution to society. Indeed, it's true that the components and motors I handle at work are small in size, but such small components are part of large plants. Transformers are also used for some solar energy systems, if not all. This also makes my job satisfying.
Although I am a member of the inspection group now, I want to be involved in all the jobs in my section. The more I learn, the more strongly I recognize the depth of my job. I think my quest for knowledge dates back to my university days.
I believe that everything I do at work helps Fukushima. Fukushima Prefecture is aiming to achieve 100% renewable energy self-sufficiency by 2040. I want Fukushima to become a model case for renewable energy development. I look forward to working with like-minded people to contribute to society together.