Careers
Messages from Employees
I went to a university outside Fukushima but wanted to come back and find a job here. At that time, I learned about Kitashiba operating in the area of social infrastructure that is essential for the economic growth of society. Since I joined Kitashiba, I have been involved in power generation and distribution control. More specifically, my department is responsible for power electronics. And, I design subsystems using power converters that control transformers, or the "brains" that energize and cool transformers and shut them down in the event of a problem.
Since there are various transformers, extensive knowledge is required to meet customers' diverse requirements. At Kitashiba, we acquire necessary skills through on-the-job training. Of course, I can look for information on my own, but, most of the time, I cannot find necessary information on the internet. This is because the knowledge we need at work concerns the unique expertise of individual companies. So, I have acquired skills one by one through on-site practice.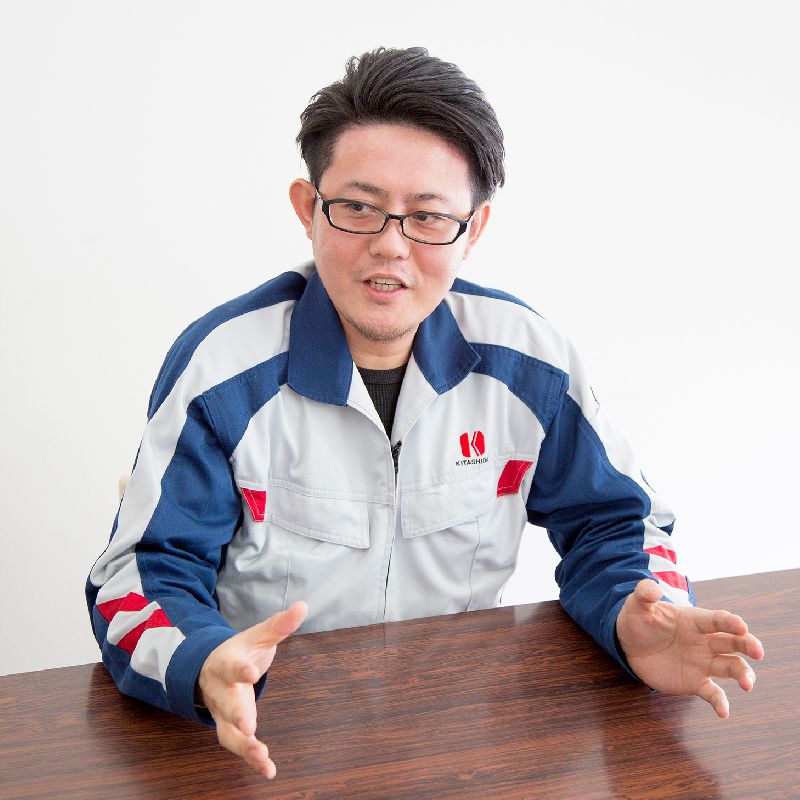 At Kitashiba, we value partnerships with customers to create excellent products. Infrastructure projects cannot be done halfheartedly. For example, customers may have long-desired requirements when replacing a system that has been in operation for 20 years since its commissioning. Because technology has advanced over the years, we never manufacture the same system as a replacement. Its fundamental functions do not change, but we always endeavor to resolve any differences between our proposal and the customer's requirements to make the replacement even better. In recent years, we have been receiving increasing orders from Southeast Asia for the equipment to be used in new thermal power plants.
I have taken over the voltage regulator job from my predecessor. So, at present, I want to master the expertise for voltage regulators. After a supply voltage is stepped down by a transformer, a voltage regulator regulates its output to maintain a constant voltage. I said earlier that a power regulator controls a transformer. So, I am excited to be able to be involved in both transformers at power plants and the voltage regulators that control them.
Regardless of the kind of job you choose, you might have a tough time at first, just having to follow directions and find your job less than enjoyable. I did. In three years or so, you will gradually come to see and understand a lot of things. And, you will find much more fun when you acquire the ability to make decisions by yourself. A turning point in my career came when I visited the Futtsu Power Station in Chiba Prefecture for field study. I was in my twenties. It's a major thermal power station that serves four million households. Realizing that this power plant is supported by Kitashiba, I really felt the importance and responsibility of my job. I would be pleased if I could work with people who happen to read this page. You will find Kitashiba worth working for.