Careers
Various Working Systems & Benefit Programs
Kitashiba offers a variety of benefit programs so that its employees can work without anxiety. The following describes the benefit and other programs available at Kitashiba.
Various Working Systems
Flextime system
Kitashiba has a flextime system to help its employees balance work and life responsibilities and work efficiently.
Refreshment leave
At milestone years of employment, Kitashiba provides its employees with special consecutive holidays according to the length of service. This is to help them refresh their body and mind and feel energized to take a new leap forward. Employees are entitled to take a refreshment leave after ten years of service and every five years thereafter. 10 years of service: 5 days, 15 years of service: 5 days, 20 years of service: 10 days, 25 years of service: 5 days, 30 years of service: 5 days
Wide Plan leave system
This leave system allows employees to carry over unused paid holidays to the next year.
Child care and nursing leaves
Kitashiba offers child care and nursing leaves to support its employees' lives. Kitashiba has a reduced working hour system, which allows its employees to reduce their working hours by up to two hours until the end of March of the year in which their children finish the sixth grade at primary school.
Benefit Programs
Cafeteria Plan (selective benefit program)
Employees are granted points at the end of each year. They can use the points to receive desired welfare services, just as you can choose the food you want to eat at a cafeteria. This plan is intended to meet employees' diverse needs.
| | |
| --- | --- |
| Housing and rent subsidy | This subsidy covers part of the expense for the maintenance of your house or an apartment rent. |
| Dormitory and company-provided rental housing | Kitashiba has a dormitory in the city of Fukushima for unmarried employees as well as married employees posted away from their family. |
| Social insurances | Health insurance, employee pension insurance, unemployment insurance, worker accident compensation insurance |
| Property accumulation | Toshiba stock ownership plan, employee savings plan, pension savings plan |
| Toshiba stock ownership plan | This plan allows the purchase of Toshiba stock with limited funds to accumulate savings over the long term. |
| Welfare facilities | Kitashiba has a cafeteria, a shop, a training gym, and a healthcare center to help its employees refresh their body and mind. The cafeteria provides salad and drink bars. |
Club activities
Kitashiba has basketball, soccer, (rubber ball) baseball, tennis, table tennis, and skiing clubs. The skiing club has an athlete who has participated in the National Athletic Meet for seven consecutive years. All the teams actively take part in sports lessons and other events held at primary and junior high schools in the city of Fukushima.

Soccer Club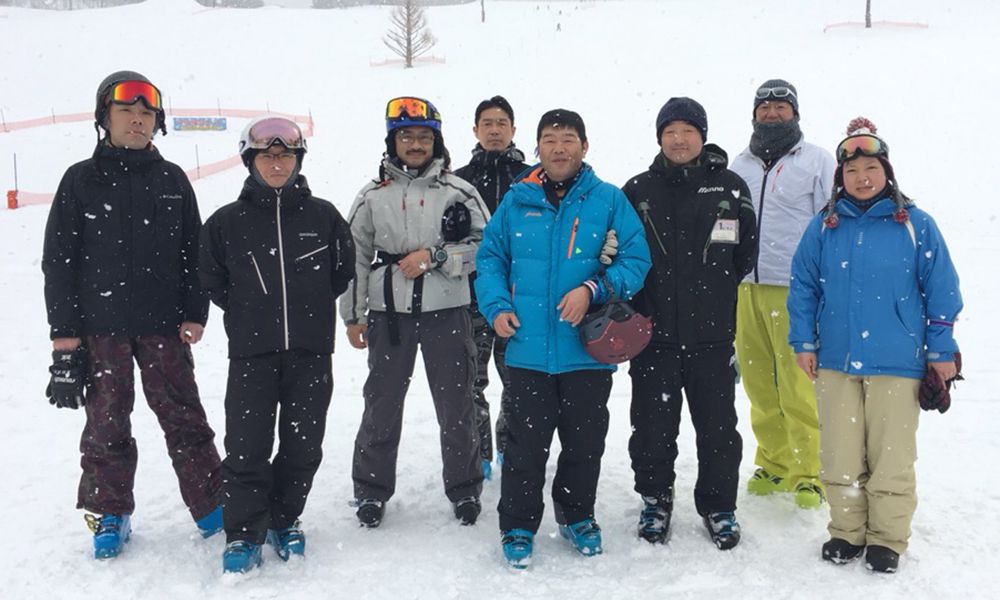 Skiing Club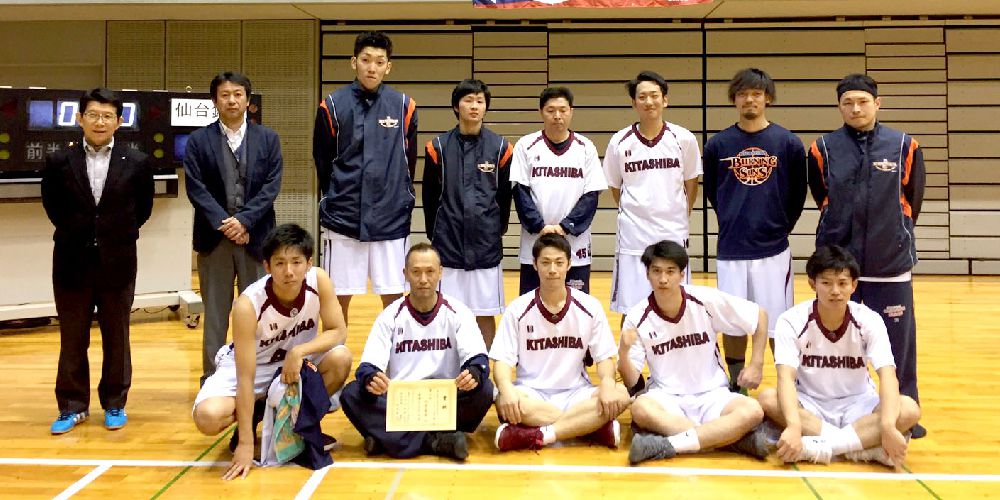 Basketball Club

Baseball Club
In-house events
In spring, we organize a trekking trip and a barbecue party to savor the delights of Fukushima's natural environment. In summer, we hold a festival, to which local people are invited. In fall, an ekiden, or a long-distance relay road race, is held on ski slopes. In winter, we offer ski lessons. These in-house events are designed to let employees enjoy the splendid nature of Fukushima in all four seasons.
Trekking and barbecue in August
Through wonderful trekking and barbecue experiences, the participants enjoyed the beauty of nature through their five senses. Many employees gathered with their families.